Investigation of School Administrators' Technological Leadership Behaviors in the Context of Teachers' Professional Development

Abstract views: 40 /

PDF downloads: 32
Keywords:
Technological leadership, professional development, educational technology, effective learning,
Abstract
The objective of this research is to examine the influence of school principals' technological leadership practices on teachers' professional growth. In the contemporary educational landscape, principals' adeptness in technological leadership holds significant implications for fostering teachers' professional evolution. A mixed-method converging parallel design was employed in this study, facilitating both quantitative and qualitative data collection and analysis. The research sample comprised 418 teachers from various types of schools in Istanbul's districts of Beylikdüzü, Büyükçekmece, Silivri Avcılar, and Esenyurt during the spring term of the 2022-2023 academic year. Quantitative data were procured using the "School Principal Technological Leadership Behavior Scale (SPTLBS)" developed by Durnalı (2018). In contrast, qualitative data were gathered using an "Interview Form" curated by the researcher. Throughout the research process, the researcher ensured the participating teachers were fully informed about the measurement tool and their voluntary participation was respected. Descriptive statistical techniques, including arithmetic mean and inferential statistics, including t-tests, were used to analyze the quantitative data. For qualitative data analysis, the MAXQDA program was utilized. The study hypothesizes that school principals' technological leadership practices significantly impact teachers' professional development. Interestingly, the principals' technological leadership practices did not significantly vary according to the teachers' education level, age, tenure, or teaching field. In qualitative findings, participants suggested that the influence on teachers' professional development was jointly attributable to both the teacher and the principal.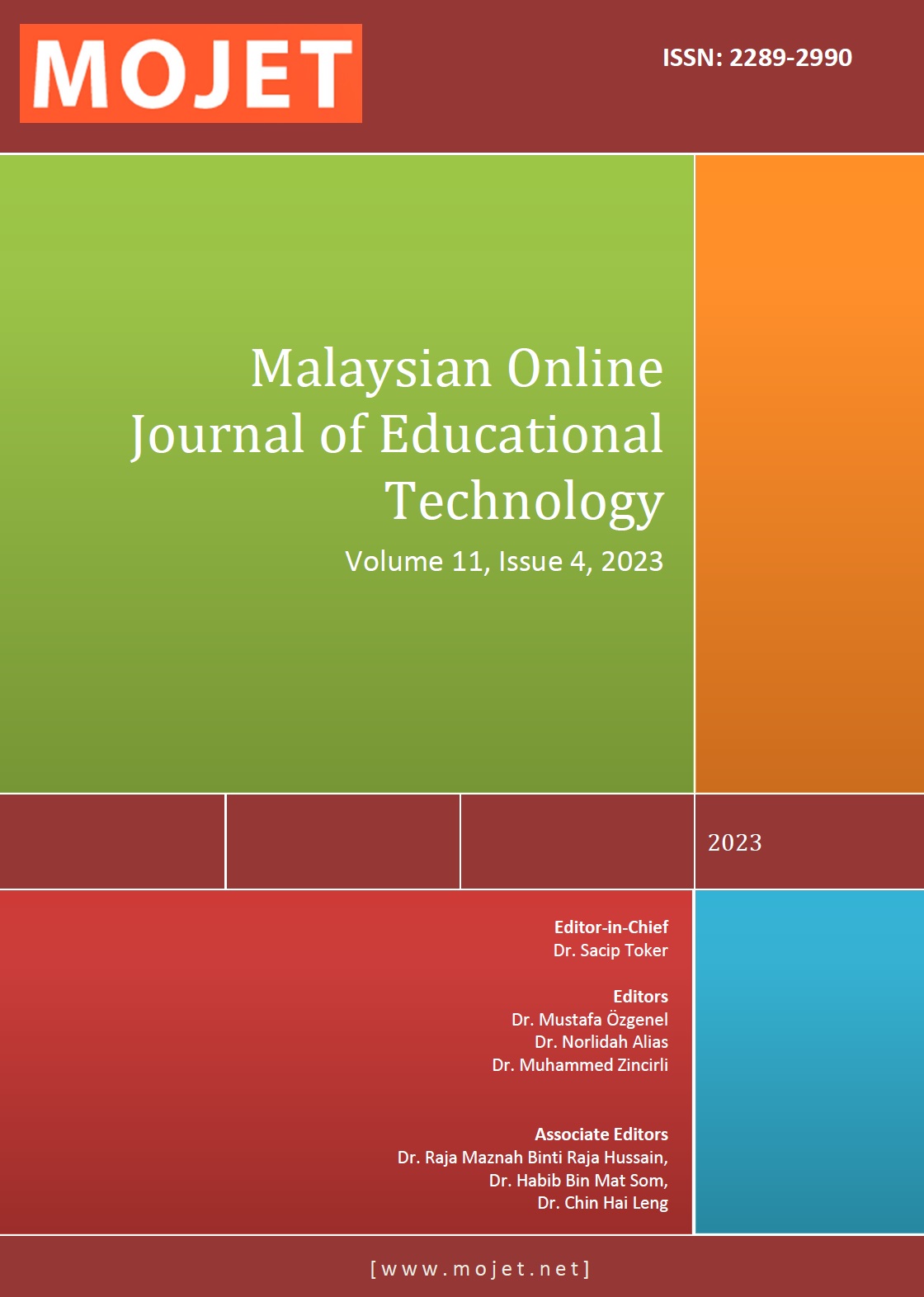 Downloads
How to Cite
Işık, M. (2023). Investigation of School Administrators' Technological Leadership Behaviors in the Context of Teachers' Professional Development. Malaysian Online Journal of Educational Technology, 11(4), 238–257. https://doi.org/10.52380/mojet.2023.11.4.530
License
Copyright (c) 2023 Malaysian Online Journal of Educational Technology
This work is licensed under a Creative Commons Attribution-NonCommercial-NoDerivatives 4.0 International License.