Examining the Effect of Increased Screen Usage Time on Preschoolers' Cognitive Process Skills During Covid 19 Period

Abstract views: 315 /

PDF downloads: 186
Keywords:
Child, preschool period, Covid-19, screen usage time, cognitive skills
Abstract
Today, due to various factors such as facilitation of access to digital technologies, widespread internet use, rapidly increasing urbanization, and digitization of education, children meet the screen at a much earlier age and screen usage times increase rapidly. Due to the COVID-19 pandemic affecting the whole world, the introduction of distance education has been another important factor that increases screen usage time. According to the results of the research, long-term screen use can cause eye health problems and sleep problems in children, inadequate and unhealthy nutrition, mood and behavioral disorders, impaired cognitive functions, and attention deficit, and hyperactivity disorder. This research aims to examine the effects of screen use on the cognitive process skills of preschoolers who are 5 years old. The research is designed according to qualitative research methodology and case study pattern. A total of 34 children (17 female and 17 male) who are the students of a kindergarten affiliated with the Ministry of National Education, three preschool teachers, and 34 parents (father/mother), were the main study group. Purposeful sampling technique was used in the creation of the working group. The research data were collected through a questionnaire for parents, a child observation form for preschool teachers, and a structured observation form developed for five-year-olds. The semi-structured observation form filled out by the researchers was filled out considering observations of children during seven different activities with children and children's cognitive process skills during activity tasks. The data obtained were analyzed by the content analysis method. As a result of the research, it was observed that children with a high screen usage time were more frequently disconnected from educational activities, had trouble focusing (such as forgetting the row and column they stayed in, mixing the star they were following, not noticing the lack of shape, having difficulty finding the color they were looking for in painting), shorter attention spans and time to engage with the activity.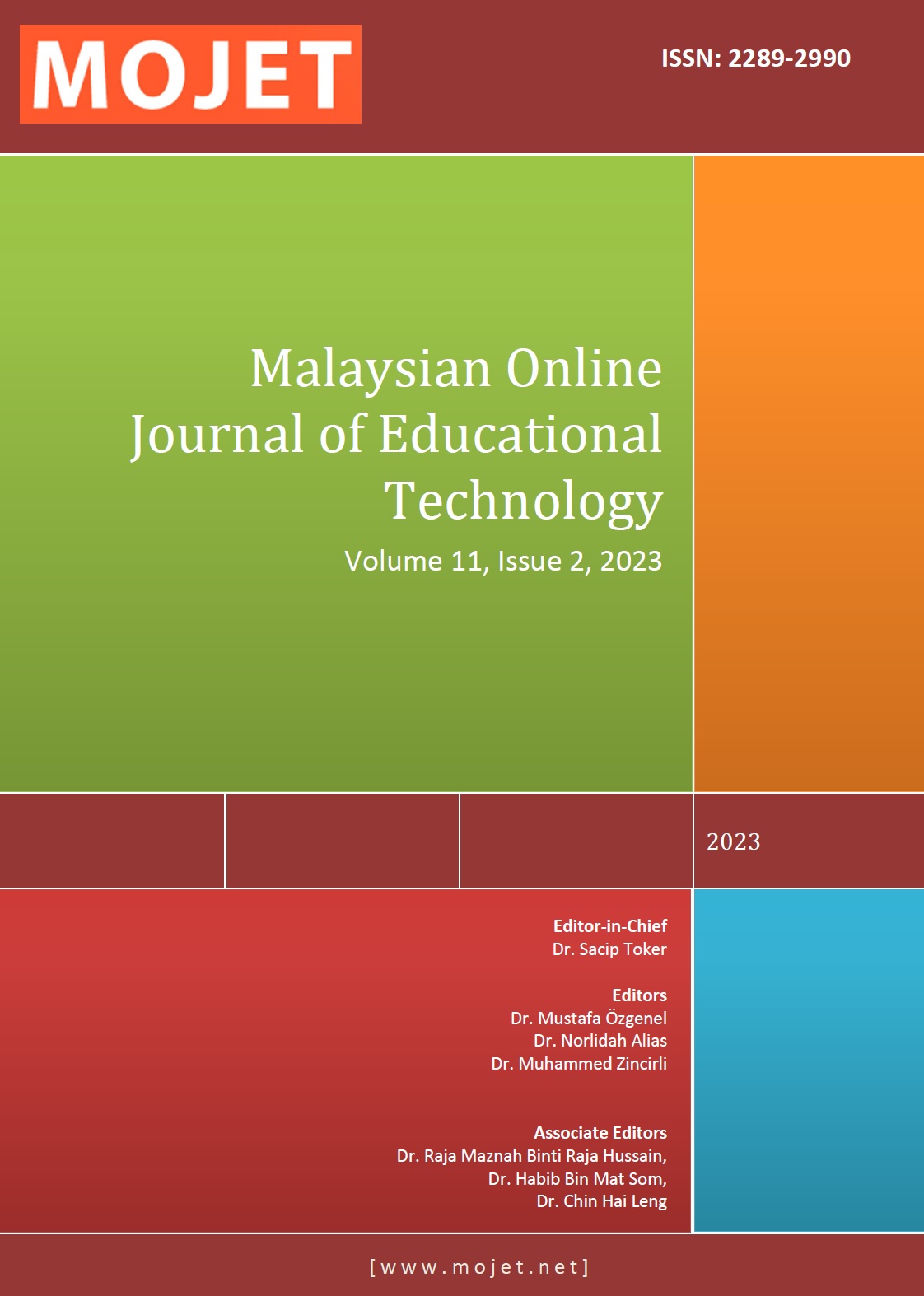 Downloads
How to Cite
Sapsağlam, Özkan, & Birak, E. (2023). Examining the Effect of Increased Screen Usage Time on Preschoolers' Cognitive Process Skills During Covid 19 Period. Malaysian Online Journal of Educational Technology, 11(2), 108–126. https://doi.org/10.52380/mojet.2023.11.2.466
License
Copyright (c) 2023 Malaysian Online Journal of Educational Technology
This work is licensed under a Creative Commons Attribution-NonCommercial-NoDerivatives 4.0 International License.